As managers, we have come to think of necessary workplace skills as either hard or soft. Rethinking—and abandonment—of this outdated practice is necessary to move the workplace into the 21st century.
Traditionally, respected management thinkers, like Andrew DuBrin, in his Essentials of Management, defined hard skills, also called technical skills, as those relating to a particular task or situation. These operational skills involve both understanding and proficiency in a specific activity that address methods, processes, procedures, or techniques. These are also skills that can be, or have been, tested and may entail some professional, technical, or academic qualification. Easily quantifiable, these are unlike soft or human skills, which are related to personal behavior.
Unfortunately, common definitions of soft skills encompass abilities largely associated with emotional intelligence, but are far too often independent of acquired knowledge. This definition is often followed by examples that include a positive or flexible attitude, or the manner in which an individual relates to others. Often, soft or human skills are categorized as people or interpersonal skills, lacking quantifiable measurement. Indeed, testing has occurred mostly in the social sciences rather than in business schools. Hogwash! These human skills require both knowledge and years of practice. Let's put an end to this old-fashioned thinking.
Moreover, individuals in the 21st century require three sets of critical skills: operational, human, and digital, all of which require continuous learning, inquiry, and significant practice to be viable for both the individual and the organization.
In this new 21st century work ecology, this third set of necessary skills cannot be underestimated. The technological advances that both disrupt and enhance the fundamentals necessary for successful employment and organizational sustainability require separating these digital skills from operational and human skill sets. Together, these three components of workplace behavior are not hard or soft, they are necessary, interdependent, and can be respectfully measured.
The triangle below illustrates the three sides of strategic success.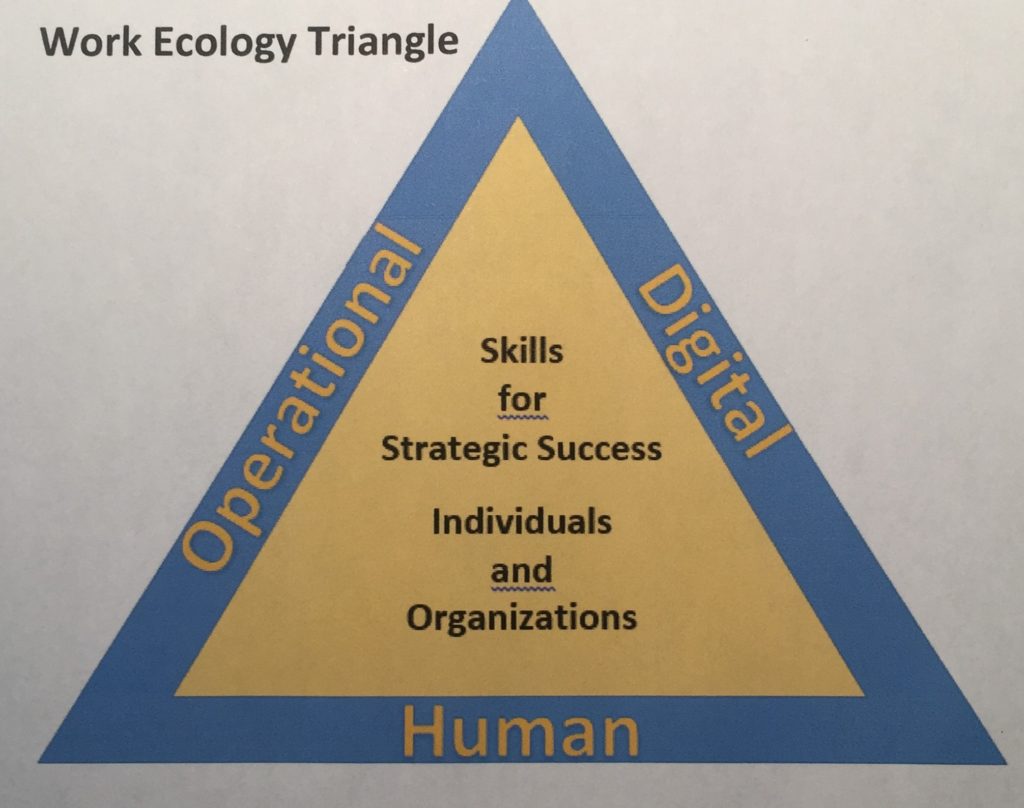 Let's look at each of these skill categories.
And be sure to note—the foundation of the three skill sets is the human skills component.
Human skills:
These involve a command of practice and fluency, as well as a set of abilities that permit interpersonal understanding and communication. These include:
Ability to play well with others and succeed in a team environment
Confidence to operate independently when appropriate; trust in self and organization
Command of the organizational narrative, orally and in written form
Innovative approach to work; a curious attitude, and hunger for learning
Innovation, adaptability, flexibility, foresight
Empathy, social sensitivity
Sound sense of when to lead and when to follow
Energetic work ethic
It is wrong to think of these skills as not requiring learning and academic rigor. [MB1] To be competent in human skills one must engage in considerable reading, research, reflection, and practice. All components of academic rigor.
Certainly, they carry emotional overtones and can be difficult to measure. However, everyone knows when an individual possesses these skills and when they are absent. This is foundational, since all operational and digital skill capabilities cannot overcome the failure to act and interact in a human context.
Operational skills:
This set of skills involves fundamental understanding, practice, and ability to engage in specific functions. These broad operational areas include:
Organizational tactics that keep the institution in working order
Ability to detect patterns, integrating observations into daily operations
Acting on sound tenets of accounting, budget preparation. Absorbing financials, evaluating proposals, making appropriate judgments with fiscal stewardship in mind
Ability to see actions in context and practice foresight, sensitive to the difference of tactics and strategy. Talent for negotiation, conflict resolution, planning
Evaluation and redesign of organizational processes
Adept at collecting and organizing information in logical, concise manner that demonstrates status of operations
Prioritizing to increase effectiveness and productivity
Ability to craft concepts into words in a form that propels the desired message
In the new ecology and culture of work and organizational fitness, we cannot avoid delineating a third set of proficiencies—that of digital skills—rather than lumping them into the old paradigm of hard and soft.
Digital skills:
These represent the aptitude of the individual and an organization to use technology. They include not only existing technological options, but an understanding that technological advances and disruption are ongoing, are welcome, and will require continuous upgrading. Organizations must invest in their employees by enhancing these skills as demanded by advances in technology. These include:
General understanding of business and social implications of AI, machine learning and other technologies, and perception of the organization's capacity to use them
Computer skills beyond the basics
Facility with email clients, search engines, spreadsheets and presentations. Awareness of basic security, backup, and privacy concerns, and a comfort level within an online environment
Digital etiquette and media fluency
Ability to understand, create, evaluate, select and employ technology systems to access, analyze, and communicate messages across a spectrum of platforms and formats
Document creation and information fluency
Ability to apply critical thinking, tools, and systems to address challenges at multiple levels across disciplines and format structures with a range of individuals and units
Sufficient aptitude to enable troubleshooting. Using orderly methods to find solutions through active listening, observational skills, data gathering, fact finding, and analysis to assess causes and potential solutions
Using tech tools, analyze and offer solutions for project success throughout all organizational levels in pursuit of ultimate goal
Capacity to seek and retrieve information via databases in order to execute basic qualitative and quantitative analysis
A symbiotic relationship
Only by understanding the interdependent nature of these skill sets can individuals and organizations develop the capacity for 21stcentury success and sustainability, thereby fulfilling their obligation to their stakeholders.
In rethinking skill sets, we will need to change job descriptions and interview processes, deploy executives to manage teams and individuals in new ways, empower boards to learn and act in a future-focused capacity, exercise stewardship, and invest in continuous learning for all levels of the organization.
Is it time for you and your group to use this new workplace skill construct as a prism to view a successful future?
---